Belgium
Jews first arrived in what is now Belgium in the early 13th century. By the end of the 14th century, most of the Jews had left as a result of religious persecution. In the early 15th century, Jews again appeared in the southern Netherlands. Many of these were Marranos settling primarily in the Antwerp area.
At the end of the 19th century, there was a large influx of immigration from Central and Eastern Europe, which resulted in a bipolarization of Belgian Jewry. Brussels was a center of French influences, whereas Antwerp was strongly Yiddish. When the Germans invaded on May 10, 1940, there were about 100,000 Jews in Belgium. A majority of the Jews fled the country, primarily to France. It is estimated that at least 30,000 Jews were ultimately deported to German death camps. The Jewish population today is estimated at about 30,000.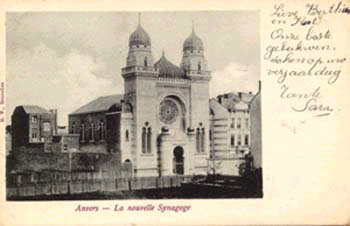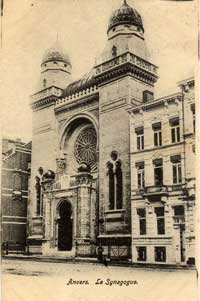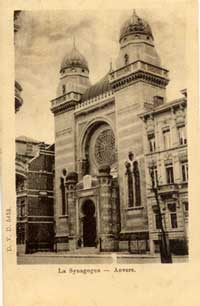 The above postcards depict the Bouwmeestersaat Synagogue in Antwerp. The first substantial Jewish community was established with the arrival of Marrano merchants and others from the Iberian Peninsula in the 1500's. In the early 20th Century, the city became the center of the diamond cutting industry, and by the start of the second world war, the Jewish population had reached 55,000. The pictured synagogue was designed by Joseph Hertogs and was opened in 1893. It was modeled loosely on earlier domed and turreted Moorish style synagogues.
The above postcard depicts the synagogue in Arlon, the oldest synagogue in Belgium. The Jewish community in Arlon was established in 1831. After the German invasion on May 10, 1941, half of the Jewish population escaped to France. According to the German census in October, 1941, there were 59 Jews in the town. Deportations to Auschwitz began in August, 1942.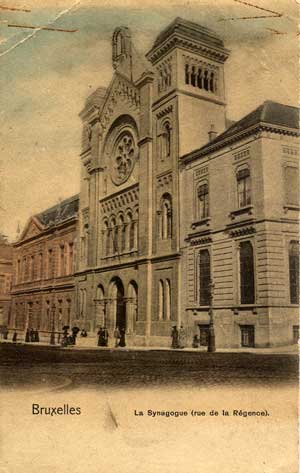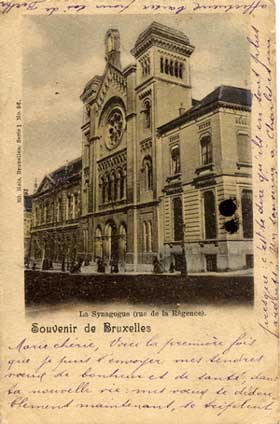 The above postcards depict the Rue de la Regence Synagogue in Brussels. This Romanesque structure was designed in 1872 by Desire DeKeyser. It took two years for construction approval to be obtained from local authorities. Construction was commenced in 1875, and the synagogue was consecrated in 1878.
The above postcard depicts the synagogue in Liege. At the outbreak of World War II, the Jewish population in Liege was about 3,000. On the liberation of the city in September, 1944, there were 1,200 Jews left in the city. As of 1982, the Jewish population was about 1,000.
Encyclopedia Judaica, 4:416-425, 3:167-69, 11:226
Carole Herselle Krinsky, Synagogues of Europe, P.256-57, 254-56
Spector, The Encyclopedia of Jewish Life Before and During the Holocaust (2001), P. 54
http://www.trabel.com/antwerp/jewishantwerp.htm

Copyright © 1998 Edward Victor