Chania, Greece (Crete)
One of the small miracles that has taken place in Greece is the restoration of the Etz Hayyim Synagogue in Chania, Crete. With only one Jew living on the island, the synagogue is open daily, a tribute to the perseverance and dedication of one man, Nikos Stavroulakis. Jews lived in Chania for centuries, many of them in a ghetto built by the Venetians. The community had two synagogues, Etz Hayyim, the Romaniote synagogue and the Shalom Synagogue for the Sephardic members of the community.

The island was under German Occupation during WWII and, in June of 1944, the small community of 340 Jews were taken off the island by boat. On route in the Aegean, the boat was destroyed by bombs and all the Jews on board were killed. It was only in 1995, when the British archives of WWII became public that is was learned that the British had scuttled the boat, thinking that it carried arms.

For decades, the only surviving synagogue, Etz Hayyim, lay in ruins. Nikos Stavroulakis, the founder of the Jewish Museum of Greece and a Jew of Chaniote descent, gathered worldwide support for its restoration. In October of 2000 Etz Hayyim was rededicated. It stands now, not only as a functioning synagogue, but also as a memorial to the Jews of Chania lost in the Holocaust.

Etz Hayyim Synagogue--

Etz Hayyim is located off of Kondylaki in the Old City of Chania, in what was once the heart of the Jewish Quarter. The exterior is nondescript, as is typical of synagogues in Greece, the Jews keeping a low profile and not wanting to draw attention to themselves. The interior is in the typical Romaniote style, the Bema on the western wall and the Aron on the eastern. There are the remains of the original mikveh through an archway to the right and the tombstones of rabbis in the courtyard in the rear, buried there at a time when the Jews were obviously fearful of burying their respected rabbis outside in the community's cemetery and chancing desecration of the tombstones. In the entrance courtyard there is a plaque in memory of the Jews of Chania who perished in the Holocaust. The synagogue also acts as a cultural center with art exhibits and concerts. Below is a picture of the interior of the synagogue showing the Aron.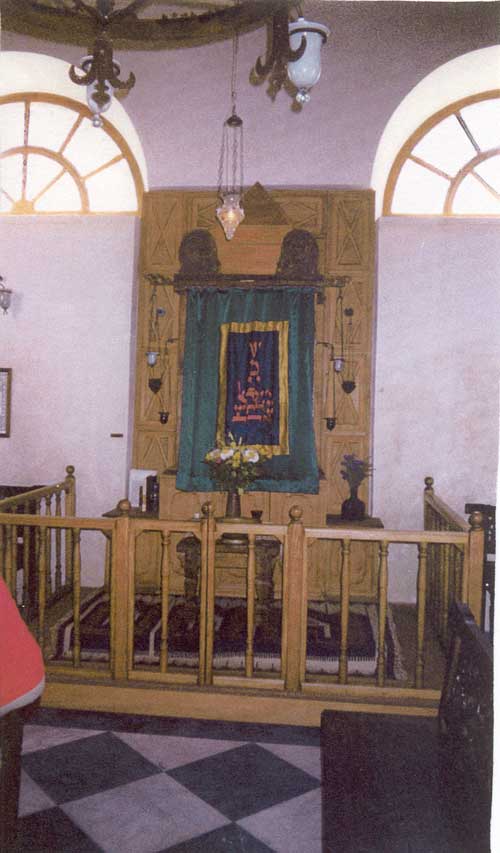 http://www.etz-hayyim-hania.org/
Copyright © 2002 Edward Victor