Croatia
Jews were present in Croatia as early as the seventh century, but were expelled in 1456. In the late 1700's, Jews from Hungary, Bohemia and Moravia resettled in Croatia. By 1870, there were about 10,000 Jews in the country, and by the end of the first world war, there were about 20,000. Between the wars, Croatia was part of Yugoslavia. In April, 1941, Yugoslavia was occupied by the Axis powers. Croatia, together with Bosnia-Herzegovina, was reconstituted as the "Independent State of Croatia". The country, with a population of about 40,000 Jews, was ruled by the Ustase party which was closely allied with the Nazis. Within days of taking power, severe anti-Jewish legislation was enacted which stripped Jews of their rights and property. By the end of 1941, two-thirds of Croatian Jews were sent to Croatian concentration camps. It is estimated that 80% of the Croatian Jewish population was murdered in Croatia.
Osijek-- Osijek, located in the eastern Croatian region of Slavonia, is the fourth largest city in Croatia. The Jewish community was organized in 1850's. The Jewish population in 1931 was about 3,000 out of a total population of about 40,000. Soon after the Germans entered the town in April, 1941, Jews were sent to camps around the town and then sent to Jasenovac. The postcard below depicts a street scene in Osijek, which includes the synagogue.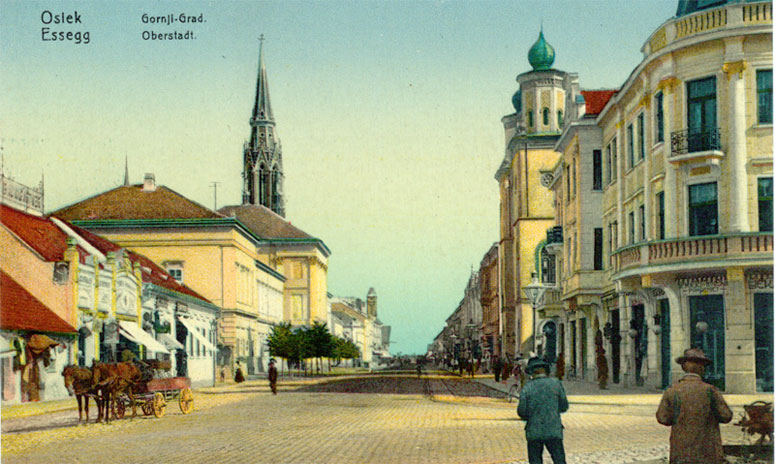 Slavonski Brod-- Slavonski Brod is a town in Croatia. It is the largest city in southern Slavonia (eastern part of Croatia). The Jewish community was established in the 19th century. The synagogue depicted on the postcard below was built in 1896 and destroyed in 1942. The postcard is postmarked October 1, 1920, to Beograd.
Vukovar-- Vukovar is a town in Croatia near Novi Sad. The town was damaged badly during the 1991-92 Serbian conflict. The Jewish community was established in 1837, and the first synagogue was consecrated in 1845. The synagogue depicted below was consecrated in 1894. In late 1941, the 500 member Jewish community was deported to various camps, primarily Jasenovac. The synagogue was sold and demolished in 1958.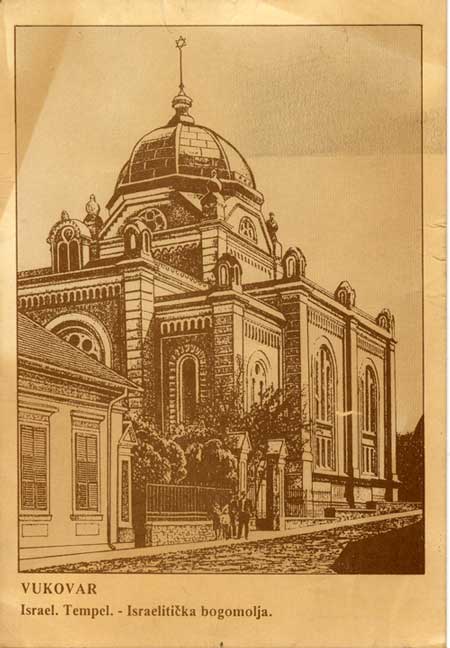 Spector, The Encyclopedia of Jewish Life Before and During the Holocaust (2001), P. 946, 1198
Encyclopedia Judaica, CD-Rom Edition
Gutman, Encyclopedia of the Holocaust, P. 323-28
http://www.google.com/search?q=cache:fl_c1QyY1W8J:www.cwwpp.org/Documents/Projects%2520and%2520Assd%2520Orgs/JCO/Jews%2520of%2520Vukovar%25202003%252003%2520CT.doc+vukovar+jews&hl=en&client=firefox-a
Copyright © 2004-08 Edward Victor