Lithuania
For the history of Lithuania prior to the partition of Poland at the end of the 18th century, see Poland. After the partition, the territories of Lithuania passed to Russia. At the end of World War I, the Jews of historic Lithuania were divided between a newly formed independent Lithuania (with Vilnius as its capital) , Belorussia and Poland. However, Vilna was captured by Poland in 1920, and became part of Poland. According to a 1923 census, there were about 154,000 Jews in Lithuania (about 7.5% of the total population).
As a result of the Hitler-Stalin Pact in 1939, Lithuania came under Soviet domination. Shortly thereafter, the Soviet Union agreed to transfer Vilna to Lithuania. This increased the Jewish population to almost 250,000 (about 10% of the total population within the new boundaries). Upon the German invasion in 1941, many Jews tried to flee to the interior of the Soviet Union, but only about 15,000 were successful. Almost immediately, the Germans, with the assistance of the Lithuanians, started to murder Jews. By the end of 1941, only 40,000 Jews remained in all of Lithunania. It is estimated that only 8,000 of these Jews survived the war.
The Jewish presence in Vilnius dates from the 16th century. By the 17th century, the city had become an important center for Jewish studies. This importance continued to grow to the point that the city was called the Jerusalem of Lithuania. The Jewish population at the time of the German occupation on June 24, 1941 was about 80,000. Between this date and the formation of the ghetto on September 6, 1941, about 35,000 Jews were murdered. The ghetto was liquidated in September, 1943. It is estimated that 100,000 Jews from Vilnius and the vicinity died in the ghetto.
The postcard below depicts the Great Synagogue in Vilnius. Some writers date the synagogue to the late 1500's. The synagogue was in a courtyard that contained many small synagogues and houses of study. At the entrance to the Synagogue complex was the famous Strashun Library, which is seen in the postcard. The grandeur of the synagogue is illustrated by the interior photo which is from the Beth Hatefutsoth photo archive.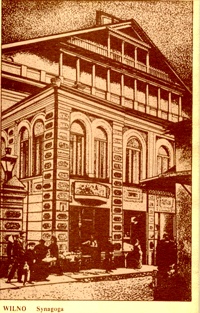 Encyclopedia Judaica, CD-Rom Edition, Keter Publishing
Carole Herselle Krinsky, Synagogues of Europe, P.223-25
Copyright © 1998-99 Edward Victor