Surinam
Surinam, formerly known as Dutch Guiana, was, until 1975, a territory of the Netherlands located on the northeast corner of South America, with a population of about 400,000 of which about 200 are Jews.
Jews settled in Surinam as early as 1639, and there is an extant ketubbah indicating a marriage conducted there by a Rabbi in 1643. A second group of Jewish settlers arrived from England in 1652. The next group of Jewish settlers was lead by David Nassi. Most of the latter group was composed of Jews who fled the Inquisition and settled with the Dutch in Brazil after the Dutch were defeated by the Portuguese in 1654. Since they were experienced traders and agriculturists, they set up many sugar cane plantations.
In 1685, the second synagogue in the colony was built, located at Joden Savanne, about 10 miles from Paramaribo, the largest city in Surinam. By 1694, there were 92 Portuguese-Jewish families and some 12 German-Jewish families. The economic position of the community rose rapidly during the first half of the 18th century. Jews owned 115 of 400 plantations in 1730. However, their position declined, and by 1791, they only owned 46 of 600 plantations. Differences arose between the portuguese and German communities and the latter formed a separate community, Congregation Neve Shalom, in 1734. By 1836, the German community was larger than the Portuguese.
In 1836, the German community built a second synagogue, since the original synagogue at Joden Savanne was destroyed by fire in 1832. At its height, the Jewish community consisted of about 1,500 persons.
In 1968, Surinam issued three stamps to commemorate the establishment of the Jewish settlement in the country. The first stamp depicted below (20c value) features a map showing Jewish plantations on the Surinam River. The Hebrew inscription is from Joshua 24:2: "Your fathers dwelt on the other side of the flood in old time."
The second stamp depicted below (25c value) features the Joden Savanne Synagogue built in 1685 and destroyed by fire in 1832. The Hebrew inscription is from Isaiah 56:7: "Mine house shall be called a house of prayer."
The third stamp depicted below (30c value) features a Jewish tombstone from 1733. The Hebrew inscription is from Genesis 31:52: "an this pillar be witness."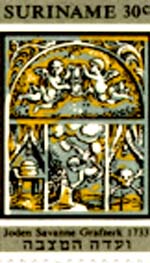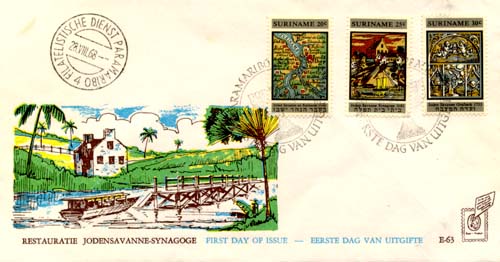 Encyclopedia Judaica, CD-Rom Edition, Keter Publishing
Copyright © 1998-99 Edward Victor